CHODENSHI BIOMAN is Toei's 1984 entry to the Super Sentai series. Super Sentai is a subgenre of the "henshin hero" (transforming hero) genre of Japanese science fiction. This genre started with 1975's Himitsu Sentai Goranger (Secret Task Force Five Rangers) and involved five heroes with different colored costumes fighting a monster-of-the-week. Since 1979's Bttle Fever J, the series has also been associated with giant robots, usually formed from different components piloted by the sentai heroes. For more on the super-sentai series, please check out the links page.
This site was created because the author felt a lack of available comprehensive sites concentrating on the older Sentai series. Bioman was the choice of sentai because it is the one that I'm most familiar with. A lot of Filipinos and Frenchmen still remember this show, you know...
BIOMIC SOLDIER is a nonprofit website dedicated to the propagation and preservation of Chodenshi Bioman fandom.
Disclaimer: CHODENSHI BIOMAN and all related elements are property of Asahi Network, Toei Company, LTD and Toei Agency.© 1984.
Biomic Soldier: The Super Electron Bioman Chronicles © 2003 by Philip Nino Tan-Gatue.
GOU SHIROU played by RYOSUKE SAKAMOTO
24 year old pilot. Shirou is the pilot of the first Japanese space shuttle. Unfortunately, he gets caught in the crossfire just as the Gear begin the invasion. In him, passion and responsibility unite in an unusual combination. He is a little quick-tempered at times. Because of the power of the Bio Particles, Red One is able to speak with animals.
500 years ago, when the Bio Robot came and showered people with Bio Particles, Shirou's ancestor was there. The ancestor was a samurai of the warrior class. Is it any wonder that Shirou is quite adept with the use of the sword? He is also good with many sports, and is adept at various forms of martial arts. Shirou grew up believing that his father was dead. However, after meeting Professor Shibata, even he is not so sure.
Interesting anecdote about Mr. Sakamoto from Damien Martinet: "For your information, M. Sakamoto was interviewed in the last issue of Toei Hero Max magazine and he was telling that he had been in the Philippines a while ago as a volunteer. He was surprised to see that Bioman was broadcast at that time and enjoyed playing with kids and making the transformation pose for them !" (He was here and I didn't know about it? Darn! - Phil)
Red One shares standard powers with the other Biomen as chronicled in the Team Attacks page. His unique abilities include the following:
CHODENSHI RADAR (super electron radar)
Red One is able to use this to predict an enemy's movements.
FIRE SWORD
Red One is able to charge his sword with fire energy.
SPARK SWORD
Nice lightsaber impression.
SHINGO TAKASUGI played by NAOTO OTA
23 year old race car driver. Shingo can be very tough to enemies yet very kind to children, for whom he has a soft spot for. Yet despite his bravado, there are times when Shingo doubts his own abilities. Once, he was depressed when a little boy's confidence in him was shattered. Another time, he doubted himself after he quit playing baseball as a high schooler. Yet despite these doubts, Shingo knows what he must do and does them as well as possible. At one time, at band camp (just kidding), he pretended to be a criminal and ended up having a boy idolize and imitate him. To prove to the boy that crime does not pay, Shingo let himself be beaten up by street thugs while the boy was watching! Green Two is the designated driver of the Bio Turbo. This is natural as he is the best driver on the team. He also breakdances and this is incorporated into his attacks. Shingo's ancestor who received the Bio Particles was a hunter.
Green Two shares standard powers with the other Biomen as chronicled in the Team Attacks page. His unique abilities include the following
CHODENSHI SCOPE (super electron scope)With this
Green Two can penetrate disguises and find invisible objects In this picture, he penetrate a mecha
HURRICANE SWORD
boomerang reminiscent of GORANGER'S Midoranger.
RYUUTA NANBARA played by AKIHITO OOSUGA
19 year old watersportsman. Boyish and adventurous, Ryuuta loves to explore and discover things new. Do not mistake him for an absent-minded child, though, he is quite level headed and full of determination, as his confrontation with the evil Prince showed. His years of diving have made him very nimble, and thus he is very skilled in stealth techniques.
His personality is evident when he helps a girl return a stolen statue to the rightful owner. Ryuuta's ancestor who received the Bio Particles was a peasant. I wouldn't be surprised if he was a fisherman.
Blue Three shares standard powers with the other Biomen as chronicled in the team page. His unique abilities include the following:
CHODENSHI EAR (super electron ear)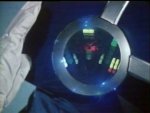 Can pick up even the slightest sound, like the humming of machinery. Often used to detect disguised
ELECTRIC SWORD
This sword can fire bursts of electric waves.
SKY DIVING
Can "dive" through the air cutting down the enemy.
MIKA KOIZUMI played by YUKI YAJIMA
18 year old camerawoman. Dreams of following in her brother's footseps to photograph the wildlife in Africa. Initially, Mika is hesitant to join the Bioman team. However, she is convinced when she realizes that if she doesn't fight, then even the animals in Africa that she loves will eventually be in danger. For someone who is hesitant to do battle, Mika is a powerful and skilled martial artist.
She is the descendant of a ninja who was exposed to bio particles. However, Mika is not one to hide behind others when facing danger. Her strong personality and strong sense of justice eventually led her to sacrifice her life by absorbing the full brunt of the Anti-bioparticle blast in episode 10. She died a true heroine.
Yellow Four shares standard powers with the other Biomen as chronicled in the team attack page. Her unique abilities include the following:
CHODENSHI HOLOGRAPH (super electron holograph)
Able to project three-dimensional images.
THUNDER SWORD
This sword can call forth lightning from the sky..
JUN YABUKI played by SUMIKO TANAKA
19 year old olympic archer. After watching the Biomen in action, she tries to join them but is initially refused, even though Mika Koizumi had just died. The others were looking for another descendant of the original five who were bombarded with bio particles. However, she proves her courage, and it was also a pleasant surprise to discover that Jun has Bio Particles also! It was thus with great joy that she was presented with a technobrace to become the new Yellow Four. Jun has to sacrifice her membership in the Japanese Olympic Archery Team, yet her skills become invaluable to the Bioman team.
Yellow Four shares standard powers with the other Biomen as chronicled in the Team Attacks page. Her unique abilities include the following:
BIO ARROW
d ba archer siya
HIKARU KATSURAGI played by MICHIKO MAKINO
20 year old carnival flutist. Sweet yet strong, a mistress of disguise. Unusually strong spirit yet with a strong motherly instinct. She plays the flute both to calm her spirits and to strengthen her resolve. Willing to risk her life to save children from a mysterious plague, disguising herself as a nurse (she has a soft spot for nurses) to look at the patients, and later on, risking infection in order to find a cure. Another time, at band camp (hey she DOES play a flute...), she is able to befriend the evil computer Brain and teach it about friendship. Hikaru is descended from a upper-class noblewoman who was bombarded with Bio Particles..
Pink Five shares standard powers with the other Biomen as chronicled in the Team Attacks page. Her unique abilities include the following:
CHODENSHI BARRIER (super electron barrier)
A protective force field.
LASER SWORD
While called "laser" sword, it actually fires flashes of energy.
mga kakampi (allies)
PEEBO
Peebo is the guardian of the Bio Particles, Bio Robot and Bio Dragon. She came to earth 500 years ago and showered five courageous people with Bio Particles. Now that Gear has made its move, it is time for Peebo to summon descendants of the original five...
JUNICHI KAGEYAMA
Thinking himself an orphan, in reality he is the son of Doctorman. At first, Doctorman tries to get him to join Gear, but Junichi rejects Doctorman. (episodes 25-26) Eventually, Junichi finds and joins Dr. Shibata (43-44). Later, he helps the Biomen ultimately defeat Gear. (47-51)
PROFESSOR SHIBATA
A brilliant cybernetics and robotics professor who develops a "conscience circuit". Later revealed to have a dual identity...
(episode 43-44, 47-50)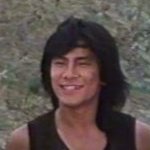 SHOUTA YAMAMORI
A mountain youth who loves nature. He also possesses formidable fighting skills. He meets and falls in love with Jun Yabuki and tries to join the team. Later, Gear mind-controls him into becoming an evil armored being powered by negative magnetism. He is freed by Jun and eventually proposes marriage to her. Unfortunately for him, Jun refuses. (episode 35-36).
SHOUTA YAMAMORI IN EVIL ARMOR
mga sasakyan
BIO MACH ONE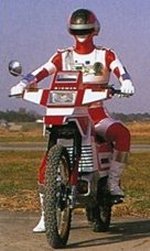 Full Speed: 540 kmh
BIO MACH TWO
Full Speed: 450 kmh
BIO TURBO
Full Speed: 630 kmh
BIO JET TWO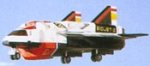 Total length: 25.6 m Weight: 368 t Full speed: Mach 12 Piloted by the others. Tentative name was BIO FOOT 2. (I'm glad they changed it.)
BIO JET ONE
BIODRAGON
Carrier ship for Bio Jets one and two, On the fuselage side, 2 laser guns are equipped. With the magnetic force crane, it can pick up an inert Bio Robot. Was originally to be named BIOMUSASHI
length: 102 m Weight: 1800 t Speed: Mach 2. Click
ang bio robot
The Bio Robot is 52 m tall, 920 tons heavy and can fly at a maximum speed of Mach 3.
Coming from the Bio Star 500 years ago, it is the Bio Robot that showers five youths with Bio Particles. In episode one, it is the Bio Robot that also gathers our five protagonists together, literally picking them up like action figures! It is also semi-sentient, showing fear at the arrival of Silver.
Unlike other sentai robots, The Bio Robot has an arsenal of attacks with his sword, the Super Mazer.
BIO FLASH
Usual method of Bio Particle Irradiation; how the five biomen's ancestors were given bioparticles years ago. Can also be used destructively.
"CONCENTRATION"
One of many other sword techniques that I can't understand the names.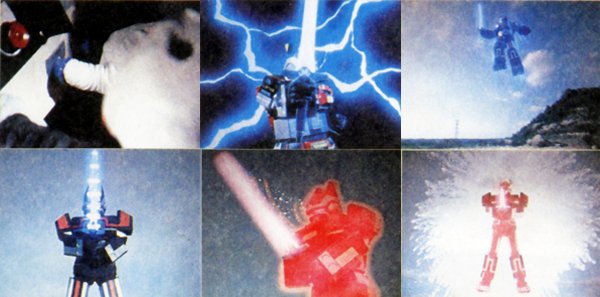 BIO PARTICLE SLASH
The Super Mazer is charged with Bio Particles. Used against later Mechagigans.
STRAIGHT FLASH
Straightforward thrust.
BIO VULCAN
Vulcan cannons on the shoulders
mga kalaban (neo empire)
The Neo Empire Gear was founded and led by the cyborg Doctorman. After Doctorman comes the Big Three, Meison, Fara and Monster, who supervise field missions. Adding some muscle to the Big Three are the Beastnoids. These are five mechanical monsters with special abilities. The bulk of their forces is composed of generic android soldiers known as mechaclones. Fara is also assisted by Faracat.
Gear's secret base Neograd is located in the South Pole. From Neograd Gear launches Mirage fighter ships and Mechagigan launch pods. Mechagigans are giant robot warriors and are usually used as a last resort by Gear.
Covered below are the principal members of Gear. Click on one to see his/her profile and sketches. Not included in the picture are Prince and the mechaclones.
The story of BIO HUNTER SILVER reflects the sad history of the Bio Star and the Bio Particles. The Bio Star had advanced its civilization to the peak of development, and were seeking to spread their good technology to other worlds. Thus, the Bio Particles were developed. The android PEEBO was to be their guardian, and the Bio Robot was also entrusted to her care.
Yet a counter-Bio alliance formed, seeking to overthrow the Bio Star rulers. Anticipating the use of the Bio Particles as weapons, this group developed the android Bio Hunter Silver. Silver was programmed for one purpose only: to destroy anything and everything that contains or is powered by Bio Particles.
Silver first appeared in episode 37, hijacking a mechagigan and going off to look for Balzion, who was separated from Silver when he first arrived on earth. Together, their power is so formidable, that even the semi sentient Bio Robot is paralyzed with fear! For Silver had assimilated half of the power of the Bio Particles for himself, and for him to regain the rest, he must destroy the current wielders: the BIOMEN!
FREQUENTLY ASKED QUESTIONS
1) Why is the site called "Biomic Soldier"? Shouldn't it be BIONIC?
Nope, it's BIOMIC (sic). The name of this website was inspired by the ending theme song of the TV series, entitled "BIOMIC SOLDIER". It's even spelled out in the song ("B!-I!-O!-M!-I!-C!") Check it out on the Song Lyrics page. Even the Philippine English dub uses the term "biomic" as in biomic brain and biomic missile.
2) Do you sell Bioman videos? Do you know who else sells Bioman videos and merchandise?
No, I don't sell videos. I know I should be getting paid for advertising them (ahem ahem), but try Henshin Video Heroes. Be sure to mention this site when contacting them! For those who prefer VCD format, well, I don't know anyone in particular. If enough people contact me to offer to sell their products, perhaps I'll open a classified ads seciton. In the meantime, we should hope and pray that Toei releases Bioman on DVD soon. Boy, I'd love that.
3) Why was the first Yellow Four killed off?
Obviously, because the actress (Yuki Yajima) had to leave. Now why she left is something I've wondered also. This is one apocryphal story that I've heard somewhere: Yuki Yajima is a member of the Japan Action Club or JAC, a group of stuntmen. Her contract was with THEM, not directly with Toei ( or so my contact said...). I was told that at the time, JAC was in a financial nadir, and Ms. Yajima quit JAC. The problem is, by quitting JAC, she couldn't continue with Bioman anymore. Hence, a hastily written Episode 10 where Yuki Yajima doesn't even appear except in flashback. Yellow Four there appears in costume all throughout. So we had one episode with no out-of-suit Yellow Four. Enough time (I presume) to find a replacement, Sumiko Tanaka as Jun Yabuki, the new Yellow Four.
I am not sure of the reliability of this story, but I am inclined to believe the following: Yuki Yajima did leave quite abruptly, too abruptly to film an episode showing her character to be seen leaving. In other sentai shows,, when an actor or actress leaves and a new character takes over the sentai member, the writers find a way to "write them off". Battle Cossack 1 of Battle Fever J was shown killed in civilian form, while Vul Eagle 1 of Sun Vulcan was promoted and a new Vul Eagle took his place. The two Vul Eagles were even seen shaking hands (untransformed, of course). With Bioman this didn't happen at all, and Yellow Four 1 was never shown out of costume in the episode where she died. If anyone can confirm the aforementioned story, and/or tell me the real deal, I'tll be much appreciated.
4) Sun Vulcan? Battle Fever J? What's all this sentai stuff you keep mentioning?
Sentai means "battle team" and is a genre of Japanese sci-fi tv. The premise is five (or so) heroes in different colored yet similar costumes fighting a monster of the week and possessing a giant robot (for toy merchandising). Find out more at http://www.supersentai.com, Toei's Super Sentai Site (in Japanese). For weekly updates on the current sentai team, check out http://www.sentaispoilers.com. Sentai has been going on for more than 25 years, with a new team each year.
5) Does Bioman have anything to do with Power Rangers?
Only in that Power Rangers is culled from different sentai shows made by Toei. Bioman is the 1984 sentai.
6) Why does Bioman have only one robot? I thought sentai teams have several robots?
Not all sentai teams have several robots. Two (Goranger and JAKQ) don't even have any. Sentai robots started in 1979 with Battle Fever J, and multiple robots started in 1986 with Flashman's Flash King and Flash Titan. Combining robots started with 1988's Liveman having Live Robo and Live Boxer combining to form Super Live Robo.
Disclaimer: CHODENSHI BIOMAN and all related elements are property of Asahi Network, Toei Company, LTD and Toei Agency.© 1984.
Biomic Soldier: The Super Electron Bioman Chronicles © 2003 by Philip Nino Tan-Gatue.