Characters
International Science Special Investigation Squad
A worldwide organization opposing organized crime and terrorism, based in New York. Has bases worldwide, including one in Shinjuku, where JAKQ is headquartered. Takes on whatever ordinary police cannot handle, such as Crime [the organization, not the phenomenon].


Spade Ace
Civilian Name: Sakurai Gorou
Team leader. Powered by atomic energy. Wielder of the Spade Arts bow and whip. Fires the deadly Spade Artas Atom (Multiple) Shot. Has a gold medal in the modern Olympic pentathlon. Originally turned down membership in JAKQ, so he could aim for the next Olympics, but changed his mind when saved by Karen Mizuki. Developed a romance with Karen toward the end of the series. [Played by Tanba Yoshitaka, son of actor and New Age enthusiast Tanba Tetsurou.]


Dia (Diamond) Jack
Civilian Name: Higashi Ryuu
Powered by electricity. Master of the Electrisword. Former junior welterweight boxer with many successive wins who turned down fixed matches and got involved with hustlers and a murder case in Las Vegas before returning to Japan. Joined JAKQ after being arrested at the airport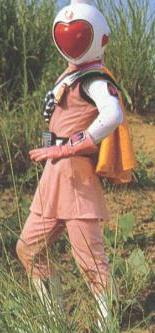 Heart Queen
Civilian Name: Karen Mizuki
Powered by magnetism. Master of the Heartcute magnetic shield. Originally a detective investigating narcotics routes. Lost her arms when the taxi with her and her father abroad was smashed by a truck. Joined JAKQ to avenge her dead father and the loss of her arms and was reborn with mechanical arms as a cyborg. Fell for Gorou toward the end of the series. [Karen Mizuki is a half-American, half-Okinawan Japan Action Club member who also appears in the Return of Sister Streetfighter.]
Clover King
Civilian Name: Daichi Bunta
Powered by gravity. Master of the Club Megaton detachable hand on a chain. Originally a oceanographer who died of oxygen deprivation in a submarine accident. Was brought back to life as a cyborg. Lost his family in an airplane accident five years earlier.


Joker
Civilian Name: Commander Kujirai Daisuke; 1-23, 35
Brought his plans for a cyborg squad to fruitition and became its leader. Left to become the head of engineering at ISSIS headquarters in episode 23, but returned in 35. Has a wife and daughter.


Big One
Civilian Name: Banba Soukichi; 23-35
Replacement for Joker. Dandy dressed entirely in white who is a master of disguise. Powered by all four forms of energy (atomic, electric, magnetic, gravitational) and has the power of flight. Armed with a stick. Loads the Big Bomber cannon assembled by the other team members. (The Big Bomber replaces the JAKQ Covack from episode 23 onward.) [Played by Miyauchi Hiroshi.]
Big Bomber

ISSIS Agents 7 (Hayashi Keiko), 8 (Yamamoto Junko), 9 (Iijima Yoshiko), and 10 (unnamed) Female assistants of JAKQ sans costumes. Commander Robert (1) ISSIS New York headquarters head. Approved of Kujirai's cyborg project.

Hime Tamasaburou (23-35)
ISSIS member who poses as a cook in traditional bathing wear on a bicycle. From Matsuyama in Shikoku. Specializes in ramen, but can only make the instant kind. The ISSIS Hamster Kujirai's pet, a cyborg that talks! Stayed behind even when Kujirai went to New York.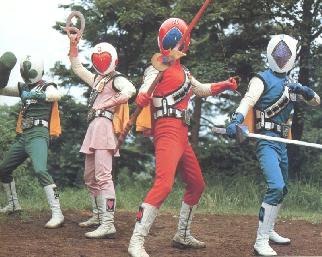 All four defeat Machine Monsters by surrounding them, injecting their four energies into it, kicking it away, and firing their energies at it to cause it to explode. This is the JAKQ Covack technique. The picture above is just their weapons.
Spade Machine
Spade Ace's modified Fiat X1/9.

Mach Dia
Dia Jack's Formula 2 race car.

Heart Buggy
Heart Queen's modified Morris Mini Moke.

Auto Clover
Clover King's motorcycle.

Strengthening Capsules
JAKQ members enter these to henshin. Also called 'Strengthening Boxes' despite their cylindrical shape. Stored in a detachable blue container in the midsection of the Sky Ace. Showers the members with their respective types of energy to cause the change. Supposedly eight such capsules exist.
Sky Ace
Flying fortress piloted either by Ace or Jack.
Jack Tank

Tank aboard Sky Ace. Armed with a twin cannon turret and a mechanical arm. I got this picture from

a Japanese site.
Film: JAKQ Blitzkrieg Squad vs. Secret Task Force Goranger

Pictures from

JAKQ Dengeki Tai
mga kalaban
Crime
An international crime syndicate.

Shine (23-35)
Alien from Shine Star and true ruler of Crime.

Iron Claw (1-35)
Silver robed Crime leader with an enormous black hat. Good at disguise. Can transform into Warrior Iron Claw.

Iron Mask Baron (film only)
Fought Kamen Rider V3 off-screen.

General Sahara (film only)
Fought Gorangers off-screen.

UFO Captain (film only)

Hell Boxer (film only)
Fought Kikaider off-screen.
Four Deva Kings Robo Combination of film only villains.

Mechanical Monsters (1-22)
Early monsters of the week.

Crime Bosses (generally one per episode; 1-18, 20)
Humans sans costumes who oversee specific regions and/or operations.

Crimers
Grunts in grey and black, armed with Sten Mk 2s.

Devil Sharks Fighter
planes with disk-like wings.

Crime Fortress Island
Headquarters of the organization.