Hiroshi Tsuburaya, 1964-2001
Obituary
THE PASSING OF A HERO, HIROSHI TSUBURAYA
By: Bob Johnson & August Ragone, Henshin! Online

Dateline: Friday, July 27, 2001

Hiroshi Tsuburaya, grandson of Eiji Tsuburaya and the Space Sheriff who saved the world in the 1980s, passed away at the age of 37 at 9:27am Tokyo time, on July 24, 2001 from liver disease. He is survived by his wife of eleven years, Fumiko and three children. The wake was held on July 25 and the funeral on July 26, both at the Siejo Catholic Church in Setagaya-ku, Tokyo.
The funeral was well attended by family and friends. Brothers Masahiro Tsuburaya (a producer at TPC) and Hideaki Tsuburaya (who runs Tsuburaya Communications) were there, along with many production staff members from Tsuburaya Productions. Actors in attendance included Takeshi Yoshioka, who played Gamu Takayama in ULTRAMAN GAIA and long-time suit actor Haruo Nakajima.
Hiroshi began his acting career by auditioning for a motion picture in the early 1980s. After not getting the role, he felt very worried about his acting career, but was saved by someone connected with the film, who gave him a small part in another movie. Following that, he landed his most famous role as the lead actor in Toei Companys SPACE SHERIFF SHAIDER (1984).
Following the leads of Kenji Ohba and Hiroshi Watari, Hiroshi Tsuburaya starred in the third of Toeis popular Space Sheriff series as Shaiders alter ego, Dai Sawamura. The series was action packed and as the main character, Hiroshi was involved in many stunt and action sequences, as well as his fair share of martial arts battles with monsters, aliens and henchmen who were trying to take over the World.
After the 52-episode run of SPACE SHERIFF SHAIDER, he went on to appear in numerous television dramas and movies, including ARARENBO SHOGUN and MITO KOMON.
In 1996, he appeared in episode 49 of ULTRAMAN TIGA. The episode involved the hero, Daigo, traveling back in time to Tsuburaya Productions in the mid-1960s, when the original ULTRAMAN series was first being developed. In this, he played the role of his father, Hajime Tsuburaya. Hajime was a director on the original ULTRAMAN and went on to take over Tsuburaya Productions after the death of his father, Eiji.
The following year, he accepted a regular role in ULTRAMAN DYNA as Colonel Seiji Miyata, the commander of TPC (The Terrestrial Peaceable Consortium). He would return for his final acting part as KCB Director, Kenji Tabata in ULTRAMAN GAIA.
Hiroshi was told a few years ago by doctors that he only had about five years to live. He was determined to outlive his father, Hajime, who died at the age of 41. At that time, he was instructed to take it easy. Wishing to help young actors get into the business, he temporarily quit his acting career and became manager of Tsuburaya Productions talent division. This was the position he held until his passing.
The last known interview with Hiroshi was in The Space Sheriffs Compendium, a book written by Mikio Ando and released in July of 2000.
All his fans will miss Hiroshi and his passing at such a young age is very tragic. Our hearts go out to his family and friends.
As Colonel Seiji Miyata in ULTRAMAN DYNA
Hiroshi stands to Gamu's left in a scene from ULTRAMAN GAIA
sino ba si anni?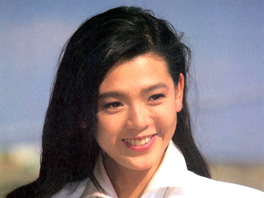 Naomi Morinaga
Birthdate: 3/12/1965
Birth Sign: Pisces
Birth Place: Kanagawa, Tokyo, Japan
Blood Type: O
Height: 167 cm (5.5 ft.)
Weight: 52 Kg (114 lbs.)
Measurements: B87cm-W60cm-H89cm (B34 in.-W23 in.- H35 in.)
Sci-Fi/Tokusatsu Roles:
Akai Bara Kamen/Baramonga Dai Sentai GoggleFive <Big Army GoggleFive> - Toei/TV Asahi, 1983) Episode 22
Annie (Uchu Keiji Shader <Space Sheriff Shader> - Toei/TV Asahi, 1984)
Helen/Helen Lady/Hellvira (Jiko Senshi Spielban <Dimensional Warrior Spielban> - Toei/TV Asahi, 1986)
Other Select TV/Movie Credits:
Taiyo Sentai SunVulcan (Sun Army SunVulcan Toei/TV Asahi, 1982) - Episode 29
Yagyuu Jyubei Abare Tabi (The Wild Adventures of Yagyu Jyubei, 1983) - Episodes 14 & 24
Kage No Gundan 2 (Shadow Army 2 KTV, 1983) Episode 23
Super Police (TBS TV, 1986)
Hisatsu! Shigoto Nin 5 (Deadly! Professionals 5 - 1986) Episode 6
Shuru Chan No Telemonja (Shuru TV - 1987) Variety Show
Jump Up! Seishun (Jump Up! Youth -1987) Variety Show
Taikoki (1987)
Tabi Shojyo (Traveling Girl - 1988)
Hisatsu! Gengeki Nin (Deadly! Swordsmen -1988) Episode 6
Onna Darake (All Women -1988)
Chi No Hana (Blood Flower -1988)
Tokugawa Eiyasu (1989)
Abarenbo Shogun III (The Maverick Shogun TV Asahi, 1989) Episode 34
Giyakudou No Onna Tachi: Saigo No Tataki (Yakuza Woman: The Final Battle Toei, 1990)
OL Shouki Nin: Ai To Fukushu No 48 Jikan (OL Punishers: 48 Hours of Love & Revenge Sam Enterprise, 1991)
Kokurei Jiyohou Kanshidan: Angel Target (U.N. Counter Intelligence: Angel Target Clarion Soft, 1991)
Lady Hunter Koroshi No Prelude (Lady Hunter Prelude To Death Shochiku Home Video, 1991)
Kamen Rider ZO (Toei/Ishinomori Pro, 1993)
Toryuden (Dragon Wars Legend SHS Project, 1995)
Toriko (Victim Image Factory IM, 1995)
Kansai Muteki Kai (Invincible Western Japan Corp Taki, 1995)
JyoKai (The Female Trade, Film City, 1995)
Toryuden II (Dragon Wars Legend II SHS Project, 1995)
Edo Murasaki Tokkyu (Edo Purple Express Amuse Video, 1995)
Kansai Muteki Kai II (Invincible Western Japan Corp II Taki, 1995)
NINE-ONE II: Majuutoshi (NINE-ONE II: Demon City Sai Pro/Step-By-Step/JVD, 1996)
Yojou Densetsu: Siren 4 (Witch Legend: Siren 4 Gyaga Communications, 1996)
Other Information:
Joined Sonichi Sonny Chibas Japan Action Club (JAC) in 1982.
Morinagas career has been on the downturn of late. After Uchu Keiji Shader, Morinaga starred in a number of low budget, sexploitation projects. In addition, Morinaga could be seen in a number of mens magazines as a nude model.
Magazine Appearances:
9/30/1988 Naomi
5/10/1999 Naomi Morinaga
5/20/1999 Shukan Gem (Weekly Gem) - Tokusatsu Heroine Nude Special
5/22/1999 Shukan Dendai (Today Weekly)
7/15/1999 Penthouse (Japan)
8/10/2001 N.M.D.C.
Date Unknown Naomi 2
Date Unknown Bitter & Sweet
Date Unknown W-Face
Soft Core Promotional Videos :
"W-Face
Emotion
How To Hair Nude