welcome to mazinger z page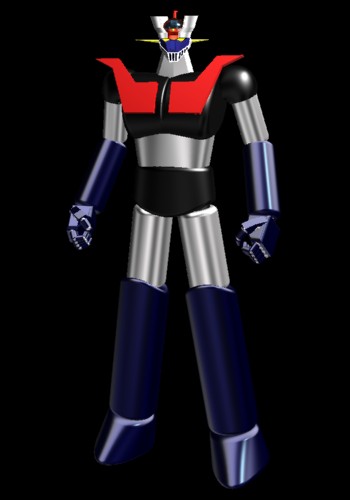 Height: 18 m
Weight: 20 tons
Neck: 5.6 m
Chest measurement: 13.6 m
Arm surroundings: 5.3 m
Walk speed: 50 km/h
Each Step6.8 m
Alloy: Chougoukin Z (Super Alloy Z)
Main Engine: Koushiryoku Energy Photoatomic
Power: 65,000,000HP
Running Speed: 360 km/h
Flying Speed: Mach 3
Underwater speed: 20 Knots
Jump power: 20 m
Ceiling Height: 20,000 m
Grip power: 150 T

Mazinger Z was created with a new kind of element called Japanium, which can only be found near Mt. Fuji. After certain treatment, the Japanium becomes a new alloy called Super Metal Z. This is a very strong material, even stronger than iron. When Japanium is radiated, it can emit an abundant energy, which becomes Mazinger's main power. Japanium was discovered by Professor Kabuto, after he fled from Dr. Hell's island.

YOU MAY CLICK ON SOME IMAGES ABOVE FOR A BIGGER PICTURE
---
Dr.Kabuto and Dr.Hell were two famous scientists who led an archeological expedition in Rhodes Island, located in the Aegean Sea. Centuries before, Rhodes was under the control of the Mikenese Empire. Rhodes had many treasures that lured the invaders to constantly attack the island. Each and every time the invaders were defeated. The Mikenese were powerful enough to destroy their enemies, but not powerful enough to overcome the fury of nature. They were destroyed by the the powerful earthquake that struck the Aegean Sea. The expedition yielded the ruins of this ancient society that had a technology so advanced they can build giant robots (called 'mechas').
Dr. Hell managed to control these mechas with an electric-telepathic type trident, and massacred most of his crew, all but Dr. Kabuto who escaped.When Dr.Hell realized how powerful those robots were, he had the idea to rule the world! Upon Dr.Kabuto's escape, he was still secretly working on two scientific projects at the Photoatomic Research Institute:

a new alloy he called Super Alloy Z processed from Japanium (a new element found only in the stratum of Mount Fuji);
a new powerful source of energy called Photo-Atomic Energy.

He decided to use his new discoveries to build Mazinger Z: a giant robot even more powerful than those mechas he found in Rhodes Island. He knew that Dr.Hell was a mad scientist and the only way to stop him was to destroy all the mechanical monsters he found before he could activate them. Mazinger Z was made with Super Alloy Z and activated by the Photo-Atomic Energy.
Dr. Hell sent his assistant, Baron Asler, to kill Dr. Kabuto. The attempt was a success but Dr. Kabuto was able to inform his grandson, Koji of Mazinger before he died.


Koji, along with his brother Shiro marvelling at Mazinger Z

Koji went to Dr. Yumi, his grandfather's assistant, and set upbase at the Photoatomic Research Institute.
YOU MAY CLICK ON SOME IMAGES ABOVE FOR A BIGGER PICTURE
| | | | | | |
| --- | --- | --- | --- | --- | --- |
| | | | | | |
| Koji Kabuto | Sayaka Yumi | Dr. Yumi | Dr. Iz | Dr. Biz | Dr. Diz |
Koji used Mazinger Z to combat Dr.Hell and his henchmen. Dr. Yumi created Aphrodite A to help Mazinger and was piloted by his daughter, Sayaka. Later on, Boss Robot was unwillingly created by the doctors Iz, Biz, and Diz for the funny man Boss for additional help.
---
The Story of how Mazinger Z was created off-screen

Mazinger- Z was created in 1972 by the famous Japanese animation artist Go Nagai. It appeared first as a manga or Japanese comic. It was quickly made into to a TV animated series that lasted 92 episodes.
During a traffic jam, in april 1972, a young mangaka said "If a car had arms, and legs There will be no problems such this !". He was called Go Nagai. He had already worked for his friend Ken ariga, a manager at Toei doga drawing "Devilman" (or better, I think it was Mao Dante) and his brothers worked for Dynamic Production. The were looking for something new, after a long, unlucky time. Go called this robot "Iron Z". It was created by professor Akagane for a special laboratory (inspired by Ultraman) to fight against Dr. Hell's creatures (You know this part of the story). His pilot (helped by Sayaka Yumi on Iron A) was called Susumu Kaze, wich was riding a motorcycle called the Pilder, and climbed the robot by riding on a kind of cape on the back of the robot.
After a short time Nagai thought to change his robot into a super robot, and he added two ideas, Japanium and Photo Atomic Energy (well, Iron A was created in this period, too). Fuji TV would have broadcasted this anime on sunday evenings, at 7.00 pm, helped in production by Asatsu Agency. But they wanted to call it "Energer Z". At last Go Nagai decided for Mazinger Z! They changed the Motorcycle with the Hover Pilder, too, to avoid any confusion with Kamen Rider. This changed Mazinger's head, too. They started publishing it on Shonen Jump, but before it they changed Susumu to Koji, and Akagane with Yumi, father of Sayaka. The robot was no more created by Yumi, but by Koji's grandfather, at first a kind of mad scientist with a deformed face, then a nice and peaceful old granny They introduced also, for kids, Boss and Shiro. Iron A became a peaceful robot, Aphrodite A.
They still had to decide how to color these characters. (Manga was in Black & White). Here in Italy we say "then any color was seen", i.e. happened almost everything about it. At first, Mazinger had flat feets, a longer armour, eyes sublined by red stripes and, sometimes, a blue Pilder, or a Pilder with a yellow tail. Aphrodite's head was at first green, then brown and only at last red, and a bigger crane. Ashura's cape was pink and purple, and his face was all made of living, pink flesh. Boss Robot was at first green and blue, too, with brown and yellow arms. Koji wore a scarf, and Sayaka had only after a few weeks her yellow pants and jacket. On December 8th they started broadcasting, but still the toon was designed by a lot of different laboratories, because Toei doga's workers were on strike. So Laser Beams from the eyes were at first red, sometimes it had a kind of gas as Breast Fire, or white punches (sometimes, white or blue in different scenes of the same episode.), or square foots, or four holes in his mouth This lasted for 13 episodes, but people already loved itIt had a share of 30% on episode 68, with duke Gorgon, one of the highest audiences of all times in Japan.
LASER FIRE
(Koushiryoku Beam)

These Photon beams came from Mazinger's eyes. Koji used this most of the time because even though it used up less energy than his other weapons, it was powerful enough.
ROCKET PUNCH

Mazinger could launch his fist to attack from a long distance. They were designed to break through the target. They had rockets to return them to Mazinger's arms.
IRON CUTTER

the Rocket Punch gets the added ability to have razors come from each side to cut the enemy.
FREEZE BEAMS: (Reitou Kousen)This was one of the last weapons Mazinger got. The Freeze beams would come from his antenea. This weapon was very rarely used.
MISSILES: Mazinger could fire missiles from his waist. These missiles were respectively powerful
CHEST FIRE

Mazinger's most powerful weapon. Heat beams from his chest plates and melt the enemy robot.
DRILL MISSILES: These missiles were design to drill through the target. They were very small and were fired like a machine gun from Mazinger's arms
HURRICANE FIRE

One of Mazinger's most powerful weapons. Mazinger would release winds from his mouth area so powerful that they would usually turn the enemy robot to dust and rust then blow the dust away.
JET SCRANDER: Mazinger's most important upgrade. Originally Mazinger could not fly. Jet Scrander was Mazinger's wing. It was fired from the base and it would attack itself to Mazinger's back.
When using Jet Scrander, a wing addition which allow Mazinger to fly, two more weapons are added.

SCRANDER STARS: (Southern Cross Knife) Scrander would release shuriken-style cutting blades from it's wings.
SCRANDER CUTTER: Mazinger use Jet Scrander's wing to cut the enemy's robot.
PILDER: (Pile Driver) Here's where Koji controls Mazinger

Hover Pilder (the first one used by Koji)
Jet Pilder. the hover propeller is replaced by jet.
APHRODITE A

Aphrodite A was created by Dr. Yumi and was piloted by his daughter Sayaka. Later in the series, Aphrodite was destroyed and Sayaka was given a new robot.

WEAPONS:

BREAST MISSILE: Aphrodite A's only weapon was to fire her breast at an enemy robot. The missiles were never really that strong. At first Aphrodite could only fire two but later gained the ability to fire more.

Height : 15 m
Weight : 16 tons
Alloy : Chougoukin Z (Super Metal Z)
Main Engine : Koushiryoku Energy (Photoatomic)
Running Speed : 200 km/h
This is Sayaka's robot. Aphrodite A doesn't use any pilder. Sayaka will climb in into the cockpit from the lab. This robot only has missiles (from its breast) as its weapon, except if Sayaka does some punching using the robot.

Apparently, many girls today who were kids during the 70's do/did not like Mazinger Z because of his silly breast-missile shooting partner, Aphrodite A. This may be psychological in nature, because they were traumatized that their breasts wil grow smaller everytime they remember Aphrodite A firing her silly breast-missiles. :)

YOU COULD CLICK ON THE IMAGES ABOVE FOR A BIGGER PICTURE
DIANA

Diana A was created by Dr. Yumi to replace Aphrodite. Diana was considerably more powerful and had more weapons than Aphrodite but still wasn't even close to Mazinger's level.

WEAPONS:
BREAST MISSILE: Diana's missiles were virtualy identical to Aphrodite's
SCARLET BEAM: This beam was Diana's most powerful weapon.
LASER BEAM : this beam comes from her eyes, just like Mazinger's
Height : 16 m
Weight : 18 tons
Chest Measurement: 10m
Alloy : Chougoukin Z (Super Metal Z)
Main Engine : Koushiryoku Energy (Photoatomic)
Running Speed : 200 km/h
Jumping distance: 15 m
Unlike Aphrodite, Diana was designed as a war machine. She's a bit more resistant than Aphrodite.
She still uses that classical weapon, the breast missiles. This time they put an additional weapon called Scarlet beam. This beam is shot from the Scarletmobil (the motorcycle).

To get to the head of Diana she uses the the Aurora ray, which is a rainbow like energy beam thrown from the front or back of the head of Diana. Sayaka can enter from the front or back of Diana's head. When she enters from the back the head housing opens two little doors. When she enters from the front of the head a rotating base points the Scarletmobil to the front of the robot.

YOU COULD CLICK ON THE IMAGES ABOVE FOR A BIGGER PICTURE
BOSS ROBO

Height: 12 m (On Mazinger-Z series)
Weight: 95 Tons
Powersource:only Boss knows
Power: 150,000 hp
Shell Material: Scrap metal
Boss Robo was the comic relief of the series. Boss, jealous of Koji, kidnapped some of Dr. Yumi's scientists Dr. Iz, Dr. Diz and Dr. Biz, into making him a robot. Although Boss Robo was made out of junk and was destroyed easily, every now and then he would prove useful in aiding Mazinger Z.

WEAPONS:
Boss Robo never used a weapon consistently. Boss would make stuff for his robot to use for about an episode then discard it.

YOU COULD CLICK ON THE IMAGES ABOVE FOR A BIGGER PICTURE
MINERVA X

Height:18 m

Weight:180 Tons

Chest Measurement:10 m

Walking Speed: 50 km/h
Each step: 6.8 m

Running Speed: 360 km/h

Underwater Speed : 20 Knots

Jumping Distance : 20 m

Power Source: Designed to work with Photo-atomic energy, but Dr.Hell used an unknown alternate power source.

Shell Material: Designed to use Super Alloy Z armored plating. again, Dr. Hell used regular materials.

Minerva moves automatically by a control system activated by Mazinger tactical computer.She has a central control system located on her belly. This circuit looks like a gemstone. It is called the PAR circuit and it is the central processor that control all the robots functions. Dr. Hell tried to get it out but Minerva doesnt work without this circuit. Minerva unlike Mazinger or Aphrodite is a "hot" robot. The term "hot" means that all the secondary circuits and Minerva's neural net are connected directly to the primary(PAR). That means that in case something happens to the primary circuit the whole robot is short-circuited. Thats why they didnt repair her, because there wasnt much of her to repair.I always thought why they just didnt use the shell and built another robot using Aphrodite's inner workings?.But remember that Dr. Hell used just regular materials that could not work with photo-atomic energy. Its not the first nor the last time that a good design is ruined by poorly chosen substitute materials.
Minerva X-was supposed to be the original female robot companion for Mazinger. She was designed by the late Dr. Kabuto, but the blueprints were stolen by the Baron Ashler before killing Dr. Kabuto. Minerva was built by Dr.Hell following the stolen blueprints. But Dr. Hell didnt have Japanium nor Photoatomic power plants so he took some liberties with the design and used common available materials to built her.These materials like regular steel cant withstand the high operating temperatures produced by photo-atomic equipment. They are also prone to be damaged by regular weapons(such as Aphrodite's missiles). Dr.Yumi explained that when Mazinger gets close to Minerva the high heat generated by him makes her cooling fluid flow out of her eyes. Thats basically the mechanical equivalent to crying.
MAZINGER Z ENEMIES
Dr. Hell Hes the scientist in charge of the investigation committee to the newfound Rhodes island. He stole the Mikenese robot technology and uses it to make giant mechanical beasts . His purpose is to conquer Japan and the world.
Baron Ashler - Dr. Hells main assistant. .The baron is half man and half woman. He/She is in charge if directing the attacks. He transports the mechanical beasts to fight with Mazinger and then returns defeated to Dr. Hell time after time.
Count Broken/Count Decapito - another assistant of Dr. Hell.This character really lost his head. His separate head hovers at his side. Dr.Hell brought him to promote competition with Ashler. He commands the flying fortress Gool.
Duke Gorgon (General Darkness) - He was sent by the Mikenese Underground Empire to destroy Mazinger-Z. Hes a scary being half man riding on a tigers body. His mechanical beasts almost destroy Mazinger in the last episode. This is when Great Mazinger shows up and saves the day.
Viscount Pigman -Hes a weird being, something like a cannibal warrior. Instead of a head he has a smaller being that controls him. He uses black magic, Voodoo and hypnotism against Mazinger.Enemy Transports
Iron Masks - They are Ashlers troops. They take care of various tasks including equipment and vehicle handling, maintenance and intelligence. If you have seen one you have seem them all because they are all alike.

YOU COULD CLICK ON THE IMAGES ABOVE FOR A BIGGER PICTURE
SOME BEAST FIGHTERS

GUCCI CAPE

BALANGER M2
BELGAS V5
DEBIRA X1

I AM A FOOL

DOUBLAS M2
BRUTUS M3
BARAS K9

DEMOS F3
GELBROS J3
GENOCIDER F9
GLOSSAM X2

GRRRRR

GRENGUS C3
JINRAI S1
GARADA K7

Salute Submarine Fortress
It is the submersible headquarters of Baron Ashler. The upper portion of the fortress looks like an island for camouflage purposes. This portion can rotate rapidly to create a vacuum that can swallow entire ships.

Gool Flying Fortress
The flying base commanded by Count Broken.He lunches his mechanical beasts and other attacks from this platform. It has a camouflage system that makes it look like a big cloud.

Bood Submarine Fortress
It's the new submarine fortress given to the Baron Ashler after Salute was destroyed. It is simply a big submarine with a face like access hatch on its top. They use this access hatch to deploy or recover the mechanical beasts or other stuff.

PART 1: Doctor Hell Defeated

A couple of episodes ago, the Mazinger Z team had finally learned the location of Dr. Hell's base and now the were making plans to end the battle. Mazinger Z, Diana A, and Boss Robot went to attack Dr. Hell's base.
| | |
| --- | --- |
| | Diana and Boss Robot were transported by ship while Koji flew overhead via Jet Scrander. The first enemy robot appears and attacks Mazinger. Diana and Boss made it to Dr. Hell's island and easily took out the awaiting defenses. The second enemy robot attacks both Boss and Diana, damaging them. |
Mazinger easily destroys the other robot after a fierce fight. The second puts up a little fight before he is also destroyed. Dr. Hell and Count Decapito try to escape on the Gor vehicle but Mazinger follows and destroys the Gor. Duke Gorgon laughs and threatens Mazinger while everybody returns home victorious.


PART 2: Mazinger Z vs. Duke Gorgon (General Darkness)
The Mazinger Crew were having a great party. Mazinger was still a little banged up and so was Koji who had hurt his arm in the battle.
Boss was telling the others of a Prophet who recently warned that the Earth will be attacked and destroyed by a mysterious enemy, but Koji did not believe him.
Suddenly, the alarm rang! Duke Gorgon sent his robots to attack.

Boss punched Koji so he and Sayaka could to take on the robots themselves.

Koji was determined to join the battle even if he was still groggy from the punch and his previous injury. Meanwhile, Gorgon's robots were destroying Diana and Boss robot, the last line of defense of the Photoatomic Research Institute. Soon, they were out of battle, slowly being melted by the powerful acid in the spines of the second robot.
Mazinger Z went to Tokyo and fell into a trap and the monsters move in to destroy him.
While this is happening, the Diabolic Spirit takes command and attempts to destroy the Laboratory.
Shiro is seriously injured when he goes to recover the gift he had bought for his brother's Birthday.

Koji is informed and returns to Shiro after taking care of all the monsters.
Duke Gorgon learns of the first attack's failure and orders General Mounstrous Beast to select the best monsters and go to eliminate Mazinger.


Duke Gorgon ordered his robots to attack the laboratory.
Koji realizes the danger and takes the battle-torn Mazinger back into the fray.
Mazinger is soundly defeated, even with the help of Boss Robot. For the same time ever Mazinger's metal alloy was failing. Koji and Mazinger trying to force themselves to fight but both colapsed. When Mazinger hit the floor, the Pile Driver fell out and Koji crashed through the glass front.
The scenes switches to Professor Kenzo Kabuto who orders Tetsuya to launch Great Mazinger.

As he heads toward the Institute and the robots, he flies over Koji who turns up to look and collapses again. Great Mazinger arrives and eliminates the enemy one by one and helps Mazinger Z to stay alive.
Sayaka and Boss are alright but Koji is gone. They recieve a call to go to Great Mazinger's base.

Professor Kenzo Kabuto introduces himself as Great Mazinger's creator to Dr. Yumi, who recognises the Professor. Professor Kabuto tells his story then asks Dr. Yumi not to tell Koji and Shiro that he is their father. Dr. Yumi agrees to take care of Shiro while Koji would study in the States. They find Koji in a hospital bed in the base. Shiro is angry that his grandfather was upstaged and worried that Mazinger Z would be destroyed but Tetsuya puts his fear to rest telling him that Great Mazinger is made from a totally different alloy thus could be considered a totally different robot. Duke Gorgon is given a scene to set the stage for the Great Mazinger series. The series ends as Koji and Sayaka leave for the United States and Koji's father promises to defend the Earth with his Great Mazinger.

The End.